THREE ACRES S.G CLAY SHOOTING LESSONS
Looking to try out a new sport? You've come to the right place…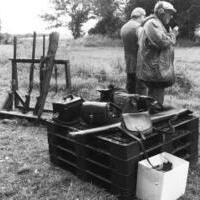 If you are looking to expand your horizons in sport, or just wanting to further your sporting skills, you could no better than trying your hand at clay pigeon shooting lessons provided by International Firearms. In a relatively short time, you will discover how enjoyable and rewarding this sport really is.
The experienced and affable Instructors cater for every level, from beginners to the more experienced participant wishing to improve their skills and techniques, all in surroundings that will ensure your progress and receive the maximum benefit to you.
So even if you have never tried clay-pigeon-shooting before, or at whatever level of experience you may have, we will ensure that you have a thoroughly enjoyable time whilst learning and/or improving upon the skills of this developing sport.
Everyone is welcome, and at whatever level, from beginner to the more adept, and our high ranking Instructors will not only look after you, but also make sure you receive the utmost benefit from your lessons with us.
The shoot operates on a Claymate counting system, with solo delay features if you are by yourself. 80 bird English Sporting layout. There are 8 stands plus a practice stand.
We are open alternate Sundays, 10am to 2pm
For further details or to check availability please call 020 8504 9652 or email [email protected]
COVID UPDATE
Please call to book ahead due to social distancing. Slots currently booked on the hour. Contact Dave Bass at International on 020 8504 9652 (shop hours Tues to Sat 10am – 6pm) or on the shoot phone 07379 104 128 (reasonable hours, please) or via our 'International Firearms' Facebook or Instagram Page.
Please use the hand sanitiser provided on site and maintain the 2m rule of distancing from people not from your household. We hope to be back to booking lessons soon, once Government guidelines and CPSA regulations allow.
Thank you for your cooperation and understanding. Dave & the team.